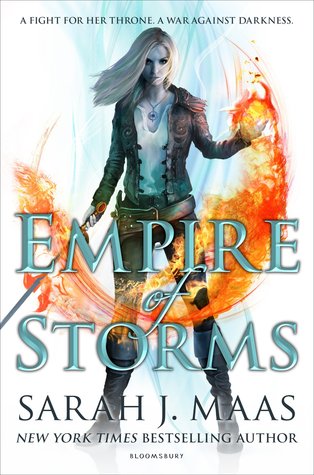 Goodreads
Amazon
Twitter
Website
The long path to the throne has only just begun for Aelin Galathynius. Loyalties have been
broken and bought, friends have been lost and gained, and those who possess magic find themselves at odds with those who don't.

As the kingdoms of Erilea fracture around her, enemies must become allies if Aelin is to keep those she loves from falling to the dark forces poised to claim her world. With war looming on all horizons, the only chance for salvation lies in a desperate quest that may mark the end of everything Aelin holds dear.

Aelin's journey from assassin to queen has entranced millions across the globe, and this fifth installment will leave fans breathless. Will Aelin succeed in keeping her world from splintering, or will it all come crashing down?
Review ahead!
Okay, I feel like I've waited an appropriate amount of time to openly discuss spoilers because if there's a book that ever needed to be discussed in depth it's Empire of Storms.
A lot of people didn't like this book but honestly, it's a continuation of them not liking a certain pairing no longer being together. If I'm entirely honest, with the whole Dorian/Chaol thing, I just rolled with the punches then wasn't upset when it seemed to go more in Chaol's way. With Aelin and Rowan, I'm not mad/upset about it, nor do I have any real issue with it, but I don't really ship it. Idk why, cos obviously I want Aelin to be happy and I'm happy she's happy but only as a passive reader. It's a weird disconnect for me as I would say 90% of the time, I like what the writer thinks is best, unlike some of the comments on books, I realise the writer has thought through every decision and sometimes we don't know why until later.
First off: how on earth was this ever going to be 3 books? Would all the same events have happened?! I remember reading Heir of Fire and being annoyed because it partially felt like a filler book but it has so much background and plot and lays the groundwork for everything that has occurred in the past two books. Empire of Storms was a gift. A gift that kept me up until 7am and ruined my sleeping pattern for a week, and I was grateful. Grateful that I had had the pleasure to read a book that absolutely gutted me and had me ready for the next book before I'd even read the last sentence.
The best thing about this series is that with every book there's so much I want from the next book and Sarah always delivers, exceeds expectations and then gives me what I didn't know I needed.
I have five major talking points from this book:
1) I know you should never start from the end but we read the same book and I'm sure you understand exactly why I have to start with this. When Maeve came and ruined everything I was like whaaaaaaaaaaaat? I've read the last couple of chapters a couple of times and I'm just still in awe at all the planning that Aelin (and obviously Sarah) put into this. I believe I tweeted that Sarah is an evil, tactical mastermind. I haven't really read that many fantasy series but I'd imagine this is what Game of Thrones fans (book followers) felt like when Jon had his *ahem* accident... just a complete different road than you thought you and the author were on. I thought Sarah and I were both going at 30 mph but apparently Sarah has been on the motorway doing 70 all this time and I'm living my best life because of it.
2) Manon aka the love of my life continues to be so freaking amazing (yes that's been censored for the kids). She made choices that had me jumping in excitement and putting my book down as I needed a moment to *process* that these things had actually just happened in the actual book written by Sarah J Maas and not a fever dream.
3) Where was Chaol? This is not from a shipping perspective, Chaol has been a major character since the very beginning and has had something major happen to him and I feel having at least one chapter focused on him would have been nice.
4) Aelin is a tactical mastermind and we have all been played. I know I've touched on this before but it needs to be discussed on its' own. Aelin has been planning so much since maybe before her Endovier days and it's actually min blowing. Her best role wasn't being the King's Assassin, it was being the protagonist and keeping us all in the dark into just how much of her life she had thought about
5) Now, this is from a shipping perspective : Aedion and Lysandra, so cute and so potentially ruined by that ending? WHAT AM I SUPPOSED TO DO NOW SARAH???
Side note: how are UK/non US fans supposed to watch Throne of Glass if it's on Hulu?????
Rating: 5 stars