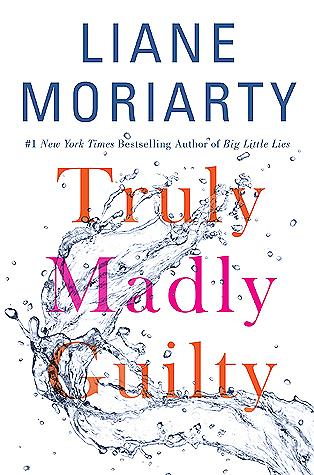 Six responsible adults. Three cute kids. One small dog. It's just a normal weekend. What could possibly go wrong?

Sam and Clementine have a wonderful, albeit, busy life: they have two little girls, Sam has just started a new dream job, and Clementine, a cellist, is busy preparing for the audition of a lifetime. If there's anything they can count on, it's each other.

Clementine and Erika are each other's oldest friends. A single look between them can convey an entire conversation. But theirs is a complicated relationship, so when Erika mentions a last minute invitation to a barbecue with her neighbors, Tiffany and Vid, Clementine and Sam don't hesitate. Having Tiffany and Vid's larger than life personalities there will be a welcome respite.

Two months later, it won't stop raining, and Clementine and Sam can't stop asking themselves the question: What if we hadn't gone?

In Truly Madly Guilty, Liane Moriarty takes on the foundations of our lives: marriage, sex, parenthood, and friendship. She shows how guilt can expose the fault lines in the most seemingly strong relationships, how what we don't say can be more powerful than what we do, and how sometimes it is the most innocent of moments that can do the greatest harm.
It's honestly such a weird feeling to go into a book with genuinely no idea of what could have happened. Big Little Lies teased at the mystery in the first chapter but I feel like very early on with the flash forwards to the event we had a good idea of what occurred.
This book picked up 8 weeks after the "incident" and honestly up until the moment it happened, I don't think I had any idea as to what it was. Once I found out what it was I was a bit confused by the reactions of a lot of the characters as, for me, they didn't seem particularly appropriate. Whilst wonderful for maintaining the suspense, it just didn't feel right to me.
The suspense level of this book definitely remains at high, especially as you can tell that you're getting closer and closer to this event that seems to have changed the trajectory of so many peoples' lives.
I will say that Liane's books seem to serve as a reminder of how awful human beings can be, even with simple traits such as narcissism or mild feelings of superiority. I'm yet to read a Liane Moriarty book without hating at least one character and I honestly find it refreshing, instead of going down the route tha many authors do when they write an awful character, it feels like Liane wants you to hate these characters. Yes they're flawed and no you shouldn't have to forgive them for it. I did love the evolution of the characters, some were simple things whilst others genuinely monumental and it was really great to have characters that weren't stagnant
I've held off on rating this since I read it as it produced such conflicting feelings in me but I'm ready now:
Rating: 3.7 stars