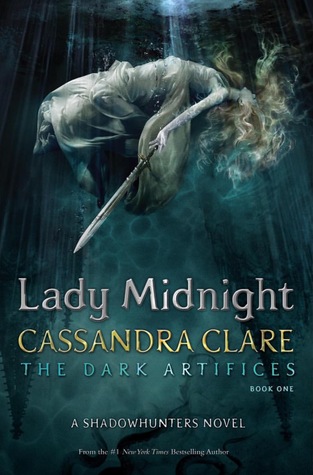 Goodreads
Amazon
Twitter
Website
It's be
en five years since the events of
City of Heavenly Fire
that brought the Shadowhunters to the brink of oblivion. Emma Carstairs is no longer a child in mourning, but a young woman bent on discovering what killed her parents and avenging her losses.
Together with her parabatai Julian Blackthorn, Emma must learn to trust her head and her heart as she investigates a demonic plot that stretches across Los Angeles, from the Sunset Strip to the enchanted sea that pounds the beaches of Santa Monica. If only her heart didn't lead her in treacherous directions…
Making things even more complicated, Julian's brother Mark—who was captured by the faeries five years ago—has been returned as a bargaining chip. The faeries are desperate to find out who is murdering their kind—and they need the Shadowhunters' help to do it. But time works differently in faerie, so Mark has barely aged and doesn't recognize his family. Can he ever truly return to them? Will the faeries really allow it?
Glitz, glamours, and Shadowhunters abound in this heartrending opening to Cassandra Clare's Dark Artifices series.
Review ahead!
I have to say, Cassandra Clare has many faults but you can't deny she can write an intriguing story. Lady Midnight follows Emma Carstairs and Julian Blackthorn along with their family and friends as they deal with life in the Los Angeles Institute. A lot of the Shadowhunter world has been established in The Mortal Instruments and The Infernal Devices and so this is a book that I believe can only be really read after having read all the previous installments (how smart).
Without a doubt, this is Clare's best starting novel to any of her series. City of Bones until City of Glass really and truly hurt me to read, whilst perfectly publishable, they had a very disengaging syntax and at times just honestly lacked any flow or reason. City of Fallen Angels as a result, for me, really showed an improvement in writing style and story telling that I believe has continued for the remaining Shadowhunter Chronicles, with Clockwork Prince being such a wonderful step up from Clockwork Angel. Anyway, back to the book in hand, Lady Midnight felt like the first book that was willing to establish itself as a book that really and truly invited further reading. Admittedly that sounds stupid as I've clearly read all the previous books but I only read them as they had mostly all been published and therefore were easy to find and get through. This book actually makes me want to know how this series will continue, waiting included.
Lady Midnight follows characters that had been previously introduced in the Shadowhunter Chronicles and then jumps forward five years from the last time we saw them, allowing them to be of perfect YA age. Lucky us.
With this book there is no introduction into the Shadowworld. Emma Carstairs and her parabatai Julian Blackthorn have been raised in it and it's all they know. As readers we don't need them to explain simple things and it may be that this was where Clare fell short before, explaining things too explicitly to the reader as opposed to moving the story along.
Reading this book allows us to get a good idea of where storylines could continue and be resolved within this series and may actually be left open for yet another series Clare plans on writing which she claims will finally be the conclusion to the Shadowhunter Chronicles which will have covered just over 3 centuries. The crumbs that have been dropped are genuinely intriguing enough to make you want to know what will happen and definitely have the opportunity to make even the most reluctant readers feel invested.
Lady Midnight had that "just one more chapter" feeling to it and didn't feel too rushed even when read through quickly. I have yet to decide if the involvement of characters from previous books was smartly used or a potential point to increase sales - whilst it's completely plausible that the characters will cross over, the manner in which they are brought into the book doesn't always seem necessary. Overall, as previously stated, I believe this to be Clare's strongest start and I am genuinely looking forward to following these Chronicles to what I'm sure will be an emotional end.
A personal opinion with regards to claims that Clare is only continuing
the series for money - whilst entirely possible, as an author, any book she writes is for money. If she feels most comfortable in this world and knows that people are willing to buy it, she'd be foolish not to continue doing so.
Recommend to: fans of the Mortal Instruments, fans of YA, fans of Cassandra Clare
Rating: 3 stars