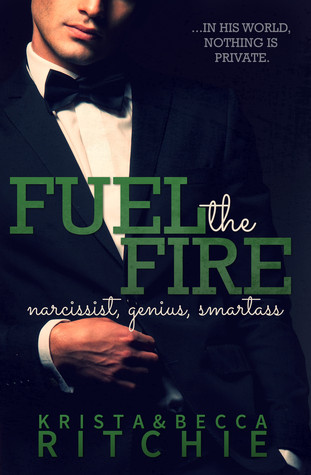 Protect your family. At all costs.
It'd take the impossible to hurt Connor Cobalt, even for a moment.
Protect your family. At all costs.
At twenty-six, his narcissistic tendencies have made room for the people he loves.
Protect your family. At all costs.
And he loves Rose. But when his love is threatened, when his greatest dreams with her are compromised — what is the cost then?
Protect your family. At all costs.
Love will guide his choices.
For the first time in his life.
I h
adn't been particularly vocal about it, but before this book I didn't trust Connor. He had some very nice moments with all the other characters that made me want to respect and love him but as said by Lily in Hothouse Flower (about Ryke, but it applies) "He sees what you give him, and you're not giving him a lot"; Connor from any one else's point of view isn't Connor and I think it's really hard for me to remember this.
Anyway so Fuel The Fire was perfection, as I have come to expect from Krista and Becca. They never take the easy option and as much as it pains me when I'm reading the books, it is truly a talent that has allowed their books to shine in the way they do. Never in a million years could I have guessed the plot and I'm just glad that I didn't/couldn't. I think, as mentioned in the book, Connor and Rose's love is the hardest to see from the outside because they're not open people regarding anything in their lives, especially something as private as their relationship. As a result, when reading from other POVs it's a lot harder to see Rose and Connor as who they actually are - unless we're in Lily's POV because "nerd stars".
I believe I've mentioned this before but I've yet to read one of the Ritchie's books without crying. The love that Coballoway have for each other, Jane and their extended family is beautiful. Even when Connor makes dog jokes at Ryke's expense. Okay, almost.
Connor actually gives one of my favourite book speeches of all time in this book and I honestly felt his indignation alongside him. This book honestly was more than a book for me, it was an experience and I'm so glad I got to be a part of it.
Recommend to: literally everyone, I cannot recommend any of Krista and Becca's books enough
Rating: 5 Stars