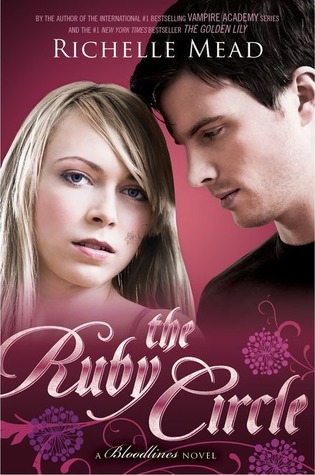 Amazon
Goodreads
Twitter
The epic conclusion to Richelle Mead's New York Times bestselling Bloodlines series is finally here...
Sydney Sage is an Alchemist, one of a group of humans who dabble in magic and serve to bridge the worlds of humans and vampires. They protect vampire secrets—and human lives.
After their secret romance is exposed, Sydney and Adrian find themselves facing the wrath of both the Alchemists and the Moroi in this electrifying conclusion to Richelle Mead's New York Times bestselling Bloodlines series. When the life of someone they both love is put on the line, Sydney risks everything to hunt down a deadly former nemesis. Meanwhile, Adrian becomes enmeshed in a puzzle that could hold the key to a shocking secret about spirit magic, a secret that could shake the entire Moroi world.
Review after the jump!
...So. It's all over and I'm ready to call Richelle Mead sobbing and asking for anything more, even fluffy pieces where everybody does absolutely nothing.
My friend introduced me to the VA series in 2013 and I raced through it, I'm so lucky I didn't have to wait between Shadow Kiss and Blood Promise or I might be a completely different person. Thankfully I got to read up until The Indigo Spell before I had to join in with everyone with the wait for The Fiery Heart. And now here we are.
Sydney and Adrian are on their final fight for their family (Jill) and their marriage. It was sweet to see them really be a couple for the first time; in TFH they were sneaking around; Silver Shadows she was incarcerated then on the run and then finally they were holed up in the Moroi Court because it as their only place of amnesty.
The Ruby Circle manages to give Adrian and Sydney separate stories whilst allowing us to see them function as a unit. Adrian had to learn how to deal with his spirit magic whilst Sydney had to deal with actual magic and the growth of both the characters within this arc was beautiful. Just as beautiful as Rose transforming from the wayward child into one of the most respected guardians of all time. I loved the relationship we got to see develop between Sydrian and Romitri. To this day, there's still fandom arguments about how Rose "treated Adrian so badly" and I'm glad that Richelle has managed to portray all the people involved as adults whilst remembering that Rose and Sydney were friends first. I thought this book did a really good job of using all of the characters available, whilst not neglecting others as can occur in book series of this length.
Plot wise I'd say I wasn't really worried about anything that happened and that was the same as the original VA series for me. By the time Last Sacrifice came about I was sure that nothing bad was going to happen to any of my favourite characters and I could just enjoy the plot without being as terrified as I was after say The Fiery Heart or Blood Promise. Perhaps my absolute favourite part of the series ever (which is saying something as who remembers those "love letters" from Strigoi Dimitri) happens on page 149, I actually had to put my book down as I was cackling so hard.
Recommend to: Fans of VA, Bloodlines, TVD, YA and fun reads
Rating: 4 stars* (actually 4.5)