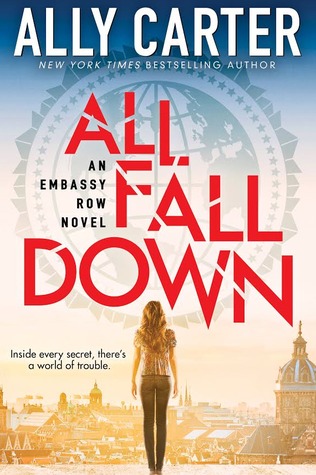 Goodreads
Amazon
Twitter
This exciting new series from NEW YORK TIMES bestselling author Ally Carter focuses on Grace, who can best be described as a daredevil, an Army brat, and a rebel. She is also the only granddaughter of perhaps the most powerful ambassador in the world, and Grace has spent every summer of her childhood running across the roofs of Embassy Row.
Now, at age sixteen, she's come back to stay--in order to solve the mystery of her mother's death. In the process, she uncovers an international conspiracy of unsettling proportions, and must choose her friends and watch her foes carefully if she and the world are to be saved
REVIEW AFTER THE JUMP!
I was a pretty big fan of the Gallagher Girls series, but I couldn't get myself into the Heist Society series so I was curious to see which side ths book would fall on.
It was a bit slow to start with, as was the Gallagher Girls but that ending! I have never been more aware that I'm starting a series than when I finished this book.
All Fall Down is about Grace who is trying to recover from witnessing her mother's death and after leaving Embassy Row, she has returned after three years, ready to deal with her past.
Embassy Row was a really fun book, as it dealt with international relations, in a non existent country, and showed us kids that are very politically aware but also able to make strong friendships regardless of whether it could potentially start WW3.
I loved the idea of not being sure if we were dealing with a reliable narrator, obviously Grace believes everything she is saying, but as there are people
around her questioning, it does make you think twice.
I mentioned the cliffhanger before but it deserves it's own paragraph; my jaw literally dropped. I had to go back and make sure I'd read what I thought I had, then I had to triple check that it was really the end of the book, and that Ally wasn't going to leave me hanging like that (spoiler: she does and it's awesome)
Recommend to: fans of Ally Carter's previous series, fans of contemporary YA, fans of mysteries.
Rating: 4* Stars