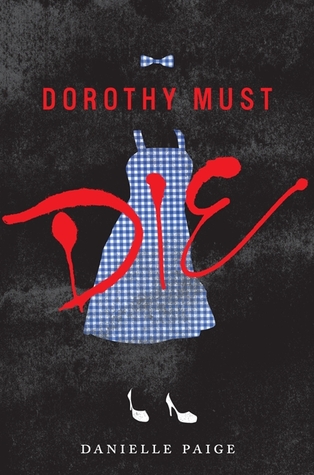 Twitter Goodreads Facebook Amazon



I didn't ask for any of this. I didn't ask to be some kind of hero.





But when your whole life gets swept up by a tornado—taking you with it—you have no choice but to go along, you know?





Sure, I've read the books. I've seen the movies. I know the song about the rainbow and the happy little blue birds. But I never expected Oz to look like this. To be a place where Good Witches can't be trusted, Wicked Witches may just be the good guys, and winged monkeys can be executed for acts of rebellion. There's still the yellow brick road, though—but even that's crumbling.





What happened? Dorothy.





They say she found a way to come back to Oz. They say she seized power and the power went to her head. And now no one is safe.





My name is Amy Gumm—and I'm the other girl from Kansas.





I've been recruited by the Revolutionary Order of the Wicked, and I've been given a mission:



REMOVE


The Tin Woodman's heart,



STEAL


The Scarecrow's brain,



TAKE


The Lion's courage,





And then—



DOROTHY MUST DIE.

Have you ever started a book that has the potential to be the best or the worst book ever so you just have to read it and see where it ends up?
This book was amazing, even when doing a partial retelling of a well known book, Danielle Paige is able to make the world distinctly hers. From goth munchkins to Perma-Smiles. Seriously, check this book out.

Dorothy has gone back to Oz and is no longer the sweet girl from the story. She's a dictator and quite possibly mad. It's actually so fun to read, she's obsessed with being in power and frankly terrifying. Whenever I think of Dorothy I have this small image of Judy Garland running around clueless, but this Dorothy is calculating and Amy has to outsmart her.
Amy is a great character to see this series from as it's all new to her but at the same time, like us, she has a vague-ish memory of how Oz should be according to the story Dorothy brought back.
This book was so good that it took me a very long time to write a review as it's difficutlt to get the right level of explaining just how awesome it is, without giving away any plot points. So I'm just going to have to leave you with my opinion that it's definitely in the top 20 books I read in 2014.

Recommend to:

everyone

; it's a fun retelling of a well known story and can be read by all ages, I think it'd also be a really fun story to read with children
Rating: 4 Stars :D