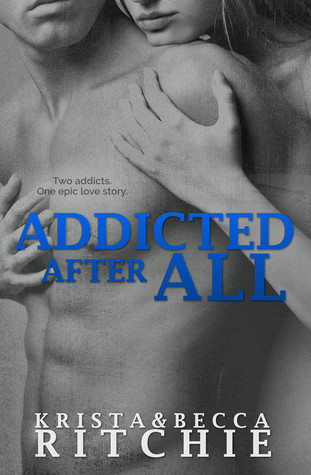 AMAZON
Goodreads
Website
Twitter
Tumblr
Pinterest
Two addicts. One epic love story.
That's what Lily and Lo try to do when Jonathan Hale schedules an "important" meeting. The problem: after being swept into the public eye and battling their addictions, they're not sure what the worst is anymore.
In a sea of many changes—including Ryke & Daisy living with them—Lily realizes that the best part of her fluctuating hormones might just be the worst.
Her sex drive is out of control.
Loren knows that she's insatiable, but he's not giving up on her. She's too much a part of him. And as he carries more and more responsibility, some of the people that he loves doubt his resolve.
In the conclusion to their love story, Lily & Lo stand side-by-side to fight, one last time, for their happily ever after.
**AUTHORS' NOTE**
Due to the 2-year gap between Addicted for Now (Addicted #2) and Addicted After All (Addicted #3), you must read Thrive (Addicted #2.5)

or the Calloway Sisters spin-off series before reading Addicted After All.
So we're finally at the end of the road for LiLo. In Ryke's words (and mine): It's the best fucking road.
Lily and Lo have been through so much as both people and as a couple and to see all their hard work come together so beautifully. In addition, this is the first book where we get to see Raisin Raisy as an actual couple and it makes me both excited and scared for where they're gonna go as a couple but I just have believe in that happy ending. Coballoway were hilarious as always.

My guess on the babies genders were actually correct but I'll leave that to you to find out ;)
I'm not going to spoil the plot in anyway, especially as this is the last of 5 books in a series but I do have to say this:

Lo- I've gotten to know you very well since I started this series in January and I have to say you have exceeded expectations (Harry Potter reference for you) there!) and become one of the greatest men I will ever read about. I wish I could tell the 13 year old Loren that hated himself how incredible he'd be but sadly I think he needed the lows to truly experience the highs. You have an amazing girlfriend, amazing friends, and brother that would pull out his own beating heart for you. You've managed to beat life,I promise you.
Lily - This whole thing started in your POV and if I hadn't loved you so much I wouldn't have continued. You're one of the strongest people I've ever read about and you don't even know it. The amount of love you exude is a ray of brightness and your compassion makes even the worst situation not as bad. You're an amazing friend, sister and girlfriend and you don't even realise how easy it is to love you. If I could tell the girl in the first chapter of Addicted To You how her life would turn out, she probably wouldn't believe me because she was still too ashamed of how she lived her life but you really and truly do not know your own strength. You don't know that your best friend will become the love of your life, that your sisters will be the closest relationships you have, including your sister's husband and your boyfriends' brother. You don't know that your boyfriends' brother is determined to hate you but will end up loving you as much as he loves Loren, and you will love him as much as you love Rose. You're going to be an extraordinary woman, and you didn't even need superpowers to get there.
I'd like to say thank you to Krista and Becca for this amazing series and the ability to make me cry while reading a book, then again when saying goodbye to two of my favourite POVs. I cannot wait for the rest of this series!

Recommend to: fans of New Adult (who have read the series), fans of realistic fiction
Rating: 5 stars