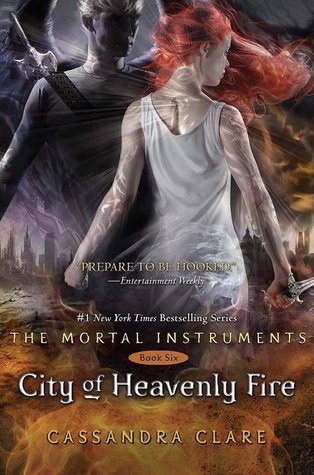 This is kind of a long post, bear with me. Or you could go right to the bottom for the giveaway I guess ;)

I will say the recommended reading order in my personal opinion though. I would say it should be read (this is how I read it): City of Bones, Ashes, Glass, Clockwork Angel, Prince, Princess, CO Fallen Angels, Lost Souls and then Heavenly Fire. Others also recommend publishing order but personally I wouldn't appreciate moving from 2012 to the 1800s and back again.

I went into this book with the mindset "expect the unexpected" and Cassandra Clare definitely delivered. This book is the culmination of 7 years building the Shadowhunter world and I commend Cassandra Clare for it.
Whilst I'm not going to go in depth in terms of the plot, due to this being the last book in the series I am going to go into depth with the character analysis due to all these characters having grown up from City of Bones until now.

I know there were some people that found themselves disappointed by this, but for myself, it was the book that cemented the fact that I can trust Clare's writing skills. There's a healthy dose of angst, terror and setting up of the next chapter of the Shadowhunter Chronicles.
Having read the book I have to say a lot of Clare's snippets were extremely misleading and released to cause undue stress. If she ever decides to quit writing, she'd probably be the best saleswoman ever.

Okay, so as there's no formal review (maybe next month) let's get on with the character analysis!
Clary - I personally don't feel like this was Clary's story. I noticed more about the other characters and I'm not sure whether she really had an opportunity to grow. She did heroic things, but I'm not sure what made them any better than her actions in City of Glass. It has already been shown that Clary is perfectly happy to kill anyone that she thinks/is correct about being a threat to her and her loved ones. I like that she was fully confident in her role as a daughter, friend, Shadowhunter and lastly girlfriend.

Jace - It's so easy to forget that Jace is just a 17 year old boy. Then he packs certain items to other realms and you're like "oh yeah." But seriously, with the whole Heavenly Fire thing and the Council/Clave refusing to acknowledge his very important point of view it's easy to sympathize with Jace. Similarly to Clary, it's shown that Jace has become more comfortable in who he is and where he fits in in life and most importantly what he can show to other people. My favourite thing about Jace is definitely that no matter what's going on he's known his place is with Alec and Isabelle as their sibling.

Alec- Alec was amazing in this book. It is amazing what heartbreak can do to some people and to Alec it made him the warrior he was always meant to be. As the Shadowhunters say "Sed lex, dura lex" Alec took this to heart in this book and was unforgiving and if I'm honest, to me, it brought out the best of Alec. He's a fierce warrior - as all Shadowhunters should be - but normally his role is looking out for Jace or Isabelle because no one decided to teach his siblings not to fight recklessly. We see the beginnings of this Alec at the end of COLS when Clary notices that it's him that is using the bow and arrow but in this book it's no longer a weapon. It's an extension of Alec himself. Alec is able to learn who he is and wants to be as a man regardless of his romantic life
In a snippet released we had a lovely quote about Alec (said to Jace) coming to terms with where he fits in in his family: "You needed me. So I realized that there was one person who didn't assume you were better than me. You."
Isabelle - Isabelle didn't seem to be herself to me in this book. I understand that with so many characters it is hard to go into depth with each character as much as the readers would like. While I prefer Character X, someone could wish Character Y got more page time so I'm willing to forgive authors for whichever mix they think is best, even if it is the last book in the series. From the little we do see of Isabelle she's full of emotion and therefore life. She starts the book angry. She's angry at her parents. She's angry her brother is dead. She's angry at Sebastian for killing Max. She's angry at Sebastian for being alive. She's angry at Sebastian for trying to take her other brother away from her. She's angry at her parents for being partially responsible for the entire situation. And then after she begins to either let go of this anger or realising that it cannot be at the forefront of her mind she becomes sad. She's sad her brother is dead. She's sad her boyfriend can never really be with her because he's a Downworlder and they can't have kids anyway.
A lot of fans were worried that Isabelle would become an Iron Sister or something equally drastic so I'm happy that she got at the very least a chance at a happy ending. (I don't know if you can tell, but I love Isabelle)

Simon - I hope I'm not spoiling anything when I say Simon started and ended the series in the same way. That is to say he started as Clary's best friend willing to follow her anyway through anything and finished like that as well. Simon really became a man in this book. He was in charge of his own destiny and it was a nice fit for him. Previously he only survived because he had the Mark of Cain and obviously that came with it's own side effects that he was unable to control. I liked him and Jace coming to a place of like and mutual respect with each other.

Magnus - The man can keep secrets. It may be his biggest flaw. An unwillingness to share secrets about himself actually caused a couple of problems in the books but he's entertainment so I'll keep him around. I think in this book Magnus became more open and was more willing to put himself out there regardless of what happened.

Sebastian/Jonathan - He's insane. Somehow it works, obviously I have to actively root against him because he's causing actual harm to characters that I like more than him but he has a certain charm that almost makes me wish I was on his side. Jonathan was a sweet guy though, somehow showing people what they're missing can hurt more than just letting them get on with their lives.

Emma - Whilst I appreciated Clare setting up the next "phase" of the Shadowhunters Chronicles I'd have preferred it if she had spent more time on the main six characters. However Emma proved to be an interesting heroine. She's strong and knows what she wants. We see how she becomes parabatai with Julian and honestly, it was dumb. She really should've thought it through more but we'll deal with the consequences of that in The Dark Artifices.
Recommend to: Fans of the Shadowhunter Chronicles, 12-17 year olds, people appreciative of a story coming together with a satisfying ending
Rating: 4 stars
********Open Internationally********
a Rafflecopter giveaway