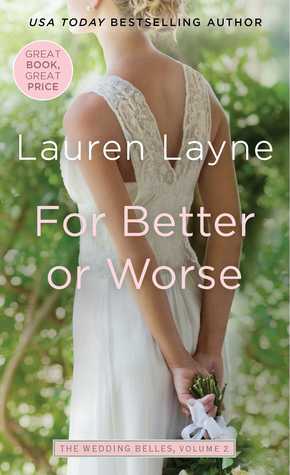 Will a budding wedding planner and her bad boy neighbor stop banging heads and start hearing wedding bells in the sexy second novel in
USA TODAY
bestselling author Lauren Layne's irresistible new series that marries
Sex and the City
with
The Wedding Planner
?
When small-town girl Heather Fowler finally gets promoted from assistant to
actual
wedding planner, she's determined to make it as one of Manhattan's elite Wedding Belles. Unfortunately, her first client demands an opulent black-tie affair at the Plaza…in five months' time. Heather's days quickly become a flurry of cake tastings, dress-fittings, RSVP cards, and bridal tantrums. But what she's really losing sleep over is the live music blaring from her playboy neighbor's apartment all night.
Five years ago, Josh Tanner was an up-and-comer on Wall Street, complete with the penthouse and the migraines. But a grim cancer diagnosis made him realize there is more to life than the corner office. If only he could convince his pretty, workaholic neighbor to let loose, too. As Heather lets down her guard, Josh is surprised when he starts falling for the sweet, vulnerable woman hiding beneath those power suits. Soon, it's Heather's turn to convince Josh to take the biggest risk of all: love.
I LOVED To Have and To Hold and basically every other Lauren Layne book I've read, so when I had the opportunity for an early copy of For Better or Worse it was like my birthday had come early!
We've seen Heather both in the novella and the previous book but I feel this book allowed her character to soar free and in turn let me love her as she deserves.
I loved Heather's outlook on life and how she had her dreams and worked hard to achieve them. I have to say, until relatively recently. I didn't realise that wedding planning was such a prominent business but this book/series helped me realisse just how much work it is and what a competitive setting it is. Anyone that is using a wedding planner/planning to use one, please remember to be super nice!!!
In this Heather is finally getting the step up from assisstant to Wedding Planner and her first client is a socialite a la Kim Kardashian... So no pressure!
Having finally been able to buy her dream apartment, HEather learns she's actually moved next door to someone who feels it is approriate to play music at all hours.
Enter Josh. Josh (surprise surprise) is the neighbour that plays music at all hours. Surprisingly, he isn't Heather's complete opposite as it tends to be in this type of situation. Josh is just as focused as Heather but in a different way, I believe. Previously a Wall Street guy, he's currently taking a break but his inability to remain aimless is I think what really cements his and Heather's relationship.
I loved the conversation between the two of them as well as their family/friend connections and how everyone was just rooting for them and encouraging their happiness. I love love love how Alexis always has a hand in everyone's relationships and I cannot wait to see how much she hates it when everyone does the same to her in the next book.
This is a wonderful series and as much as I've loved LL's standalones, series where I get to keep an eye on the characters will always have my heart so thank you! May I interest you in a PR company for your next series *wink*
Rating: 4 stars
Check out Part 1 of my Author Spotlight on Lauren Layne, Part 2 coming soon!