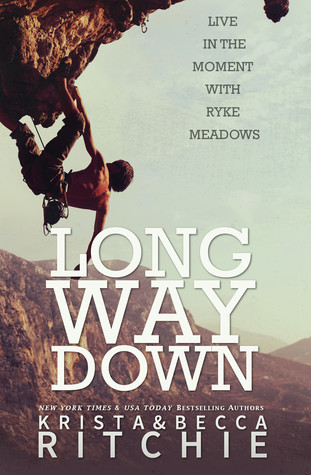 Amazon
Goodreads
Facebook
Twitter
Tumblr

With a seven-year age difference, Ryke & Daisy have faced an uphill battle in the eyes of the world and their families. Known as the most adventurous, fast-paced couple — their next step has always been elusive to the rabid media.
Behind the scenes, heartbreaking troubles continue to test Ryke & Daisy's resilience and shape their future together.
They promise:
To never slow down.
To never compromise who they are.
To never abandon their love for each other.
But preserving their happiness also means adding more risks. Ones that Connor Cobalt wouldn't even take. As a professional free-solo climber, Ryke is no stranger to risk, but his next step with Daisy wagers more than just his health.
With their lives on the line, Ryke & Daisy head towards the vast, wild unknown in this epic final conclusion to the Addicted series.

Review after the link!
Long Way Down is the book of dreams, at no point when I started a series about two addicts did I think I would laugh and cry as much as I have over the past two years.
I still remember waiting for Hothouse Flower to come out, and deciding that 4am wasn't actually that late and that my 9am class would not kill me and that if I happened to miss my bus on the way back I would just have more time to read that wonderful book.
This year I had managed to get my body clock to be nocturnal by the time LWD had come out so I was "lucky" enough to wake up at midnight and discover that the book had already published and it would have been rude not to read it at this point.
I say this every time but everything I wanted to happen did, and everything I didn't even know I wanted happened as well. Ryke and Daisy are my favourite couple by the smallest decimal whatever you could have but I just love them both separately that together it's almost too much.
The plot was so well put together and I will admit to silently screaming into the night a couple of times reading this book (you know which parts), as it turns out wanting a bromance and being able to deal with the bromance are two very different things ;). Even though we have the epilogue book coming up, I feel like this book was the real ending of the story, it was the ending of all the story lines that had been previously brought up, it was the end of multiple conflicts that had occurred over the course of the series and most importantly (I hope) it was the ending of us having to see these characters we loved so much having to fight for everything they wanted.
Lastly, Ryke and Daisy, I'm so grateful to have to been able to read your story, you have really grown up and grown together and it's made the lives of everyone around you happier.
I feel like I naturally gravitate to series because I really hate saying goodbye to characters that I love, but with this wonderful series, even goodbye didn't feel like that.
Thank you Krista and Becca for the equal love you have given to every book you publish and to each and every character you have written, it's easy for people to forget when it was their favourite's turn for all the love you have for these characters but I would like to say thank you anyway.
Recommend to: you already know this (it's everyone)


Rating: 5 stars

but only because that's the limit