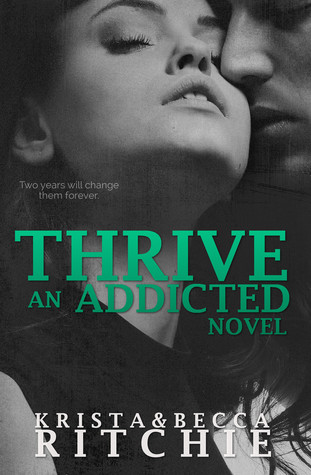 Amazon
Goodreads
Twitter
Two years will change them forever.
When rumors spread like wildfire—like having three-ways with her boyfriend's rock climbing brother—Lily Calloway spirals into a dark place. Her bedroom. Loren Hale is more confident and determined to keep their sex life private, even from their friends, and he helps Lily in the only way he knows how. But how much love is
too
much?
Their lives are filmed, watched, and criticized. And through it all, Lily and Loren have to face enemies they never thought they'd see, demons they don't know if they should bury, and setbacks they didn't think they'd meet. Not this soon.
And one rumor could be too much for them to handle. It will test their greatest limitations, and if they don't hold onto each other, someone is going to drown.
A full-length New Adult Romance that bridges the gap between the second and third books.
Thrive must be read before Addicted After All if you have not read the Calloway Sisters spin-off series.

Review ahead!

The Addicted Series begins with Lily and Lo and with the Calloway Sisters spin-off we haven't really been as intimate with LiLo as we're used to. Thrive spans from the end of the previous Addicted Book (Addicted For Now) through both Calloway Sisters books (Kiss The Sky, Hothouse Flower) and then for an additional month after that. That sounds daunting but not only is it well paced, but the date is always displayed above the chapter so you always know how far into their lives, also the sisters have this super helpful timeline. They also answer a lot of fan questions if you want to check out their Tumblr.
Lily and Lo are such important parts of Rose and Ryke's lives, you almost forget that they're addicts and very good at keeping things secret, so even though we're covering a time period we may have seen before, there are new things to be discovered and I love how Krista and Becca were able to do that.
There is really and truly not enough praise for me to heap onto this series, I recommend it to everyone I know that reads books (and some that don't yet). Krista and Becca have managed to create a world that's so rich and it's very clear that they've sat down and discussed their characters and -as is most obvious in this book - the exact timeline for everything
For me, there were just a couple of scenes that I hoped I could have seen from LiLo's perspective. The first was the scene where everyone learns that Ryke can speak French because Loren's face sounded so funny that I'm assuming his thoughts were even better. I'd also have loved to see the scene in Hothouse Flower where Lo/Lily tell Daisy welcome to the family because I'd love to see how the conversation between Lo and Lily went as she was whispering to him and obviously Daisy can't hear her.
Anyone that has seen my reviews of the series knows that I am in L O V E with Raisy as an OTP and RyLy as a BROtp so some of the issues in this book were both great and getting in the way of my favourite relationships. (Just as a note: LiLo and Raisy are my OTPs, RyLy is my BROtp and I ship Coballoway. LoCo isn't one of my BROtps bc at the beginning of the series I had the same view of the relationship that Ryke does/did and even now I know I'm wrong, it's hard to shake that feeling)
I am ridiculously excited for Addicted After All and then the rest of the Coballoway Sisters' Series. Thank you again for these books!
*****************************************************
Recommend to: Fans of New Adult, fans of strong friendships, fans of strong relationships
Rating: 4 stars